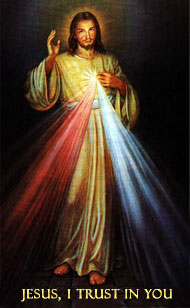 Paint an image according to the pattern you see with the signature: 'Jesus, I trust in you'. I desire that this image be venerated, first in
your chapel, and [then] throughout the world.
The two rays denote Blood and
Water. The pale ray stands for
the Water, which makes souls
righteous. The red ray stands for
the Blood, which is the life of souls. These two rays issued forth from
the depths of My tender mercy
when My agonized Heart was
opened by a lance on the Cross.